AS A KAMIKAZE BLOW JOB - PvonK Berlin
RÉFECTOIRE / NUIT BLANCHE - Musée CARNAVALET
OLYMPIC SMOKING AREA / CHIC ART FAIR
WAITING FOR THE PEAK OIL / BLITZ
As A Kamikaze Blow job combines standard signs from the teen-culture, here seen as the current dominant world culture.
A printer spits out A4 sheets with explicit exchanges between young New Yorkers, white T-shirts display logos which tell in seventeen successive images the murder of a young victim, a condom blows up like a airship and is then swallowed by the suction of a vacuum cleaner, a child's delicate hands paddle in troubled waters.An electric guitar hanging from the ceiling commits an audio suicide, a teenager - who places his obsessive ambiguous videos on youtube – dons his pink latex gloves with nerve-wrecking squeaks.These elements scattered in an apparent chaos emulate a teenager's messy bedroom, a metaphor of his or her brain.Dominating the scene, there is the reactionary figure of an easel supporting four white canvases, as the disturbing and sudden appearance of an archaic authority facing his own dislocation.This work must be understood as "contemporary history painting".
As a Kamikaze Blowjob articule des signes ordinaires issus de la teen-culture, ici envisagée comme la culture mondialement dominante.On y voit une imprimante cracher sur des feuilles A4 les échanges explicites entre des adolescents new-yorkais, des T-Shirts blancs dont les logos racontent en dix images successives l'assassinat d'une jeune victime, un préservatif gonflé comme un dirigeable avalé par la succion d'un aspirateur, des mains délicates et enfantines plongées en eau trouble. On y assiste au suicide sonore d'une guitare électrique pendue au plafond, on y entend les exaspérants couinements des gants en latex rose enfilés par un adolescent obsessionnel qui place ses vidéos ambiguës sur youtube. Ces éléments dispersés dans un chaos apparent simulent la chambre mal rangée d'un adolescent, métaphore de son espace mental. Dominant la scène, la figure réactionnaire du chevalet supportant 4 toiles blanches semble raconter l'inquiétante et soudaine apparition d'une autorité archaïque confrontée à sa propre désarticulation. Cette oeuvre doit être comprise comme une "peinture d'histoire contemporaine".
Projection vidéo HD (durée: 10'37") sur une photographie en ultra haute résolution (polyester 155x380 cm), de deux T-shirt de coton blanc (taille 36 et 40), d'une imprimante en fonction et de mille feuilles A4.
Musique originale composée par Thornander-Simantov.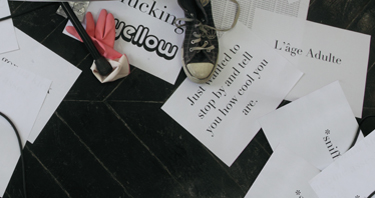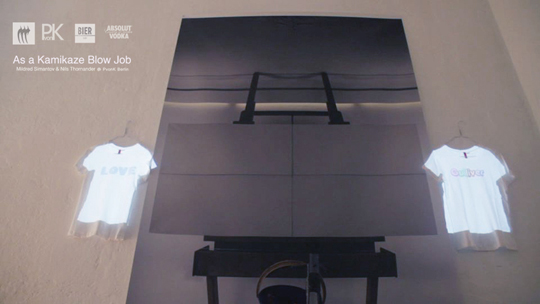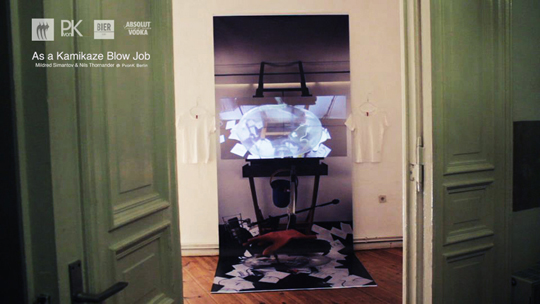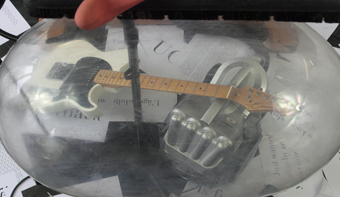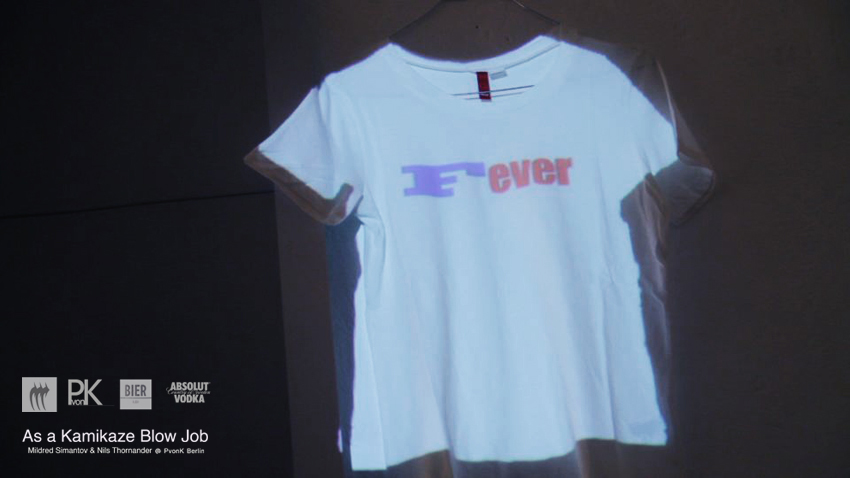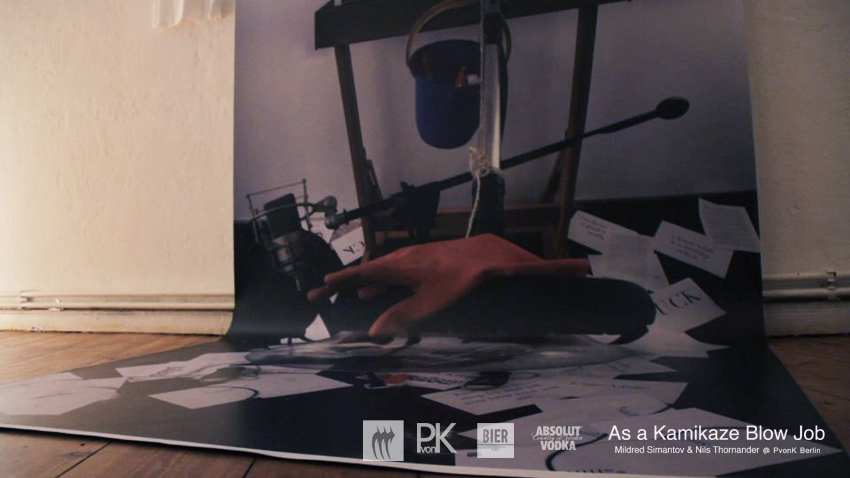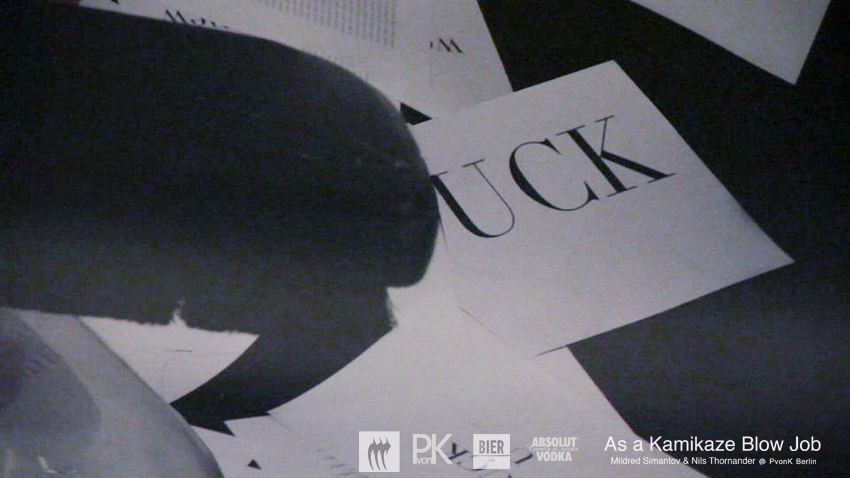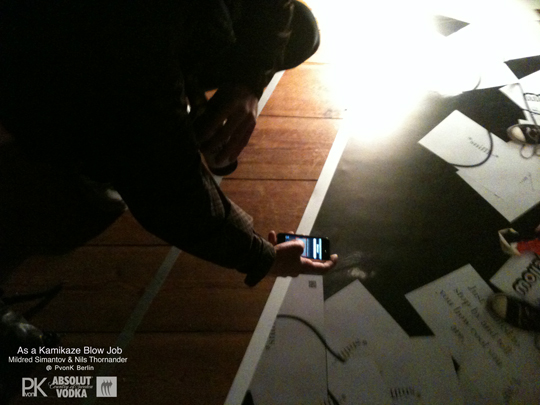 Backstage - Montage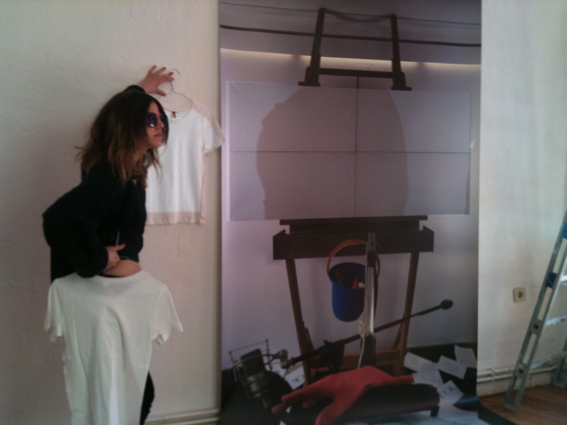 Opening - Vernissage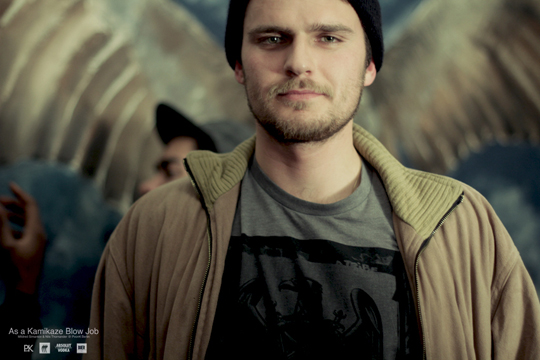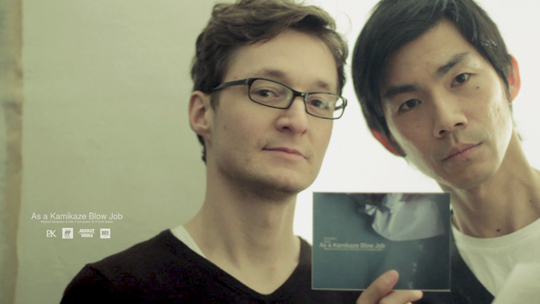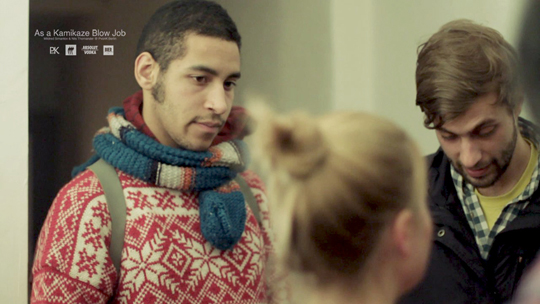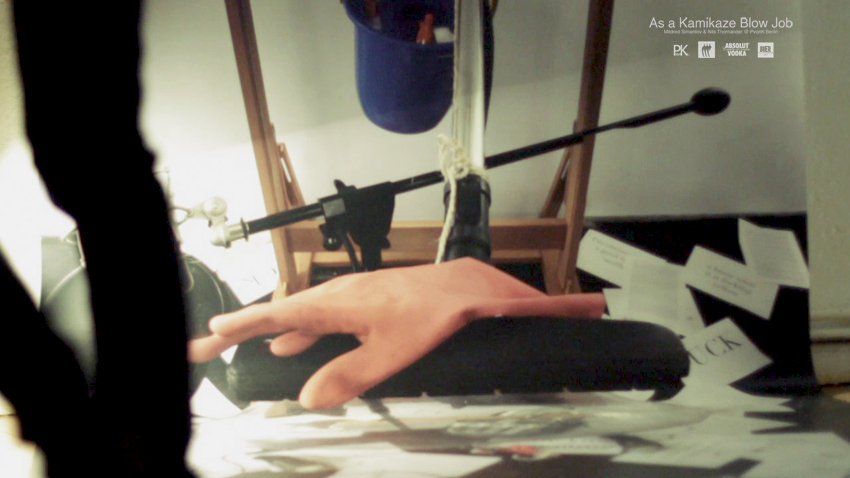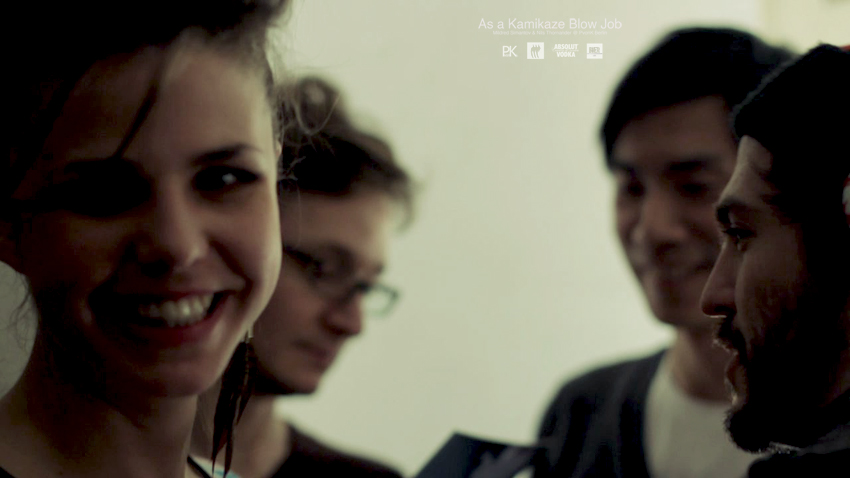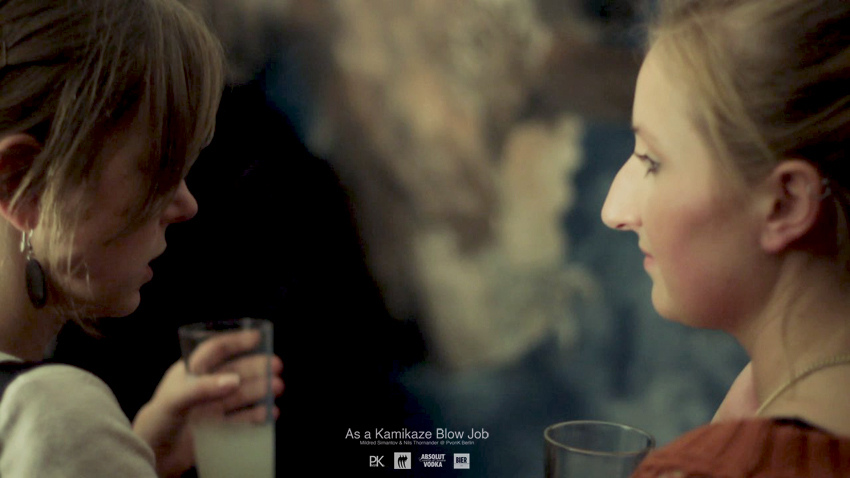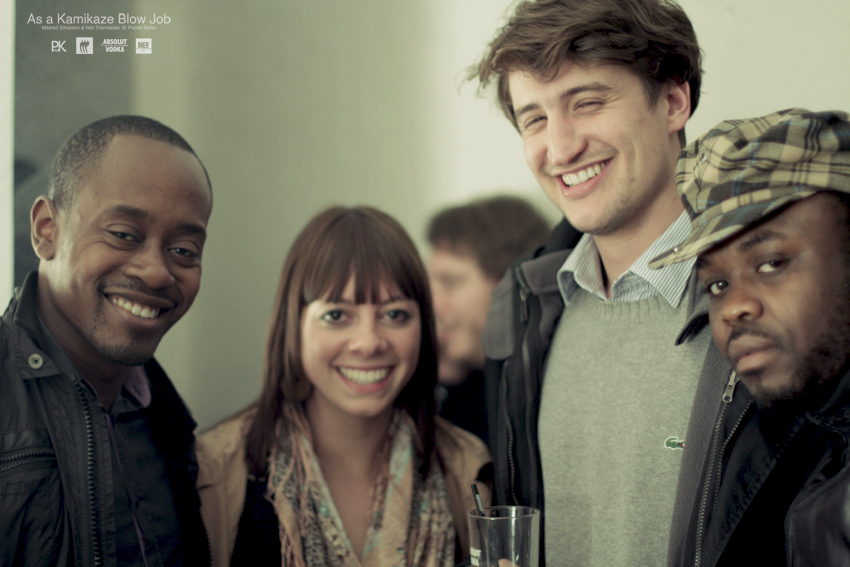 more pics about the artwork and the Opening @PvonK Berlin